WHAT IT IS
Outlines the organisational structure, responsibilities, practices, procedures, processes and the required resources to effectively manage operations.
Ensures that risks are properly identified and controlled. Reduced risk and enhanced business performance is achieved by driving the process of continual improvement for an effective Safety Management System (SMS).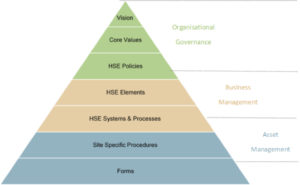 HOW IT BENEFITS
 Identifies and assesses major risks to an organisation within their operational envelope
 Basis for emergency preparedness and regulatory compliance
  Optimizes risk prevention and mitigation strategies and ensures optimum return from investment.
SMS OVERVIEW
POLICY, LEADERSHIP AND COMMITMENT
HSE RISK ASSESSMENT AND MANAGEMENT
REGULATORY COMPLIANCE & OPERATING STANDARDS
OBJECTIVES, GOALS AND STRATEGIC PLANNING
STRUCTURE AND RESPONSIBILITY
PROGRAMS AND PROCEDURES
ASSET AND OPERATIONS INTEGRITY MANAGEMENT
EMERGENCY RESPONSE
AWARENESS, TRAINING AND COMPETENCY
NON-CONFORMANCE, INVESTIGATION AND CORRECTION ACTION
COMMUNICATION SYSTEMS AND WORKFORCE INVOLVEMENT
DOCUMENTATION AND DOCUMENT CONTROL
MEASURING AND MONITORING
AUDIT AND HSEMS REVIEW